How impact crusher machine works:
Impact crusher also know as impact hammer crusher, is to crush materials by the impact force between the blow bar and the lining plate mounted on the frame, when material charged into the impact crusher, first the material will be thrown to the lining plates, then will be rebounced to the blow bar (hammer plate) due to the impact force, the material will be crushed to smaller sizes after several times. Finally is discharged from the bottom of the impact hammer crusher.
Application of impact crusher
The impact crusher is widely used for crushing various materials with compression strength less than 350Mpa. For example in mining, metallurgy, construction material, highway, railway, water conservancy and chemical industries .It is preferred to use as secondary or tertiary crushing machine in the complete stone crushing project.
Technical Parameter:
Model

Size of feed opening

Max. feed size

Capacity

Power (KW)

Weight

Dimension
(L*W*H)

(mm × mm)

(mm)

(t/h)

(t)

(mm)

PF-1007

820×700

300

24-45

55

9.5

2400×1558×2660

PF-1010

1170×720

350

50-80

75

10

2500×2000×2570

PF-1210

1090×465

350

80-130

110

14

2638×2053×2810

PF-1214

1440×465

350

100-160

132

18

2580×2400×2810

PF-1315

1532X560

350

140-200

200

19.3

3007X2748X2556

PF-1316

1690X859

350

150-220

200

19.5

3096X2850X2667

PF-1320

2030x800

325

280-320

400

29.7

3280x3200*2613

PF-1515

1580x850

350

220-280

315

28.3

3550*2835*3217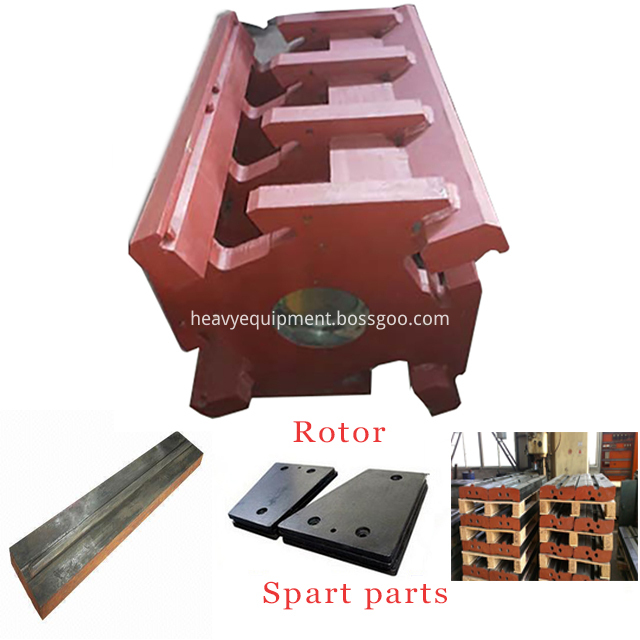 Features of impact crusher machine
1-Crushing hard rock
2-Hydraulic or manual open switch
3-Blow bar with high chrome
4-Impact plate with special shape
5-Connection with locking sleeve assembly
Factory Delivery