Linear Vibrating Screen is mainly used for dry materials separation, as it`s mainly for dry particles, so there is abundant of dust during the processing, in order to solve this problem, our factory produce the linear vibrating screen with a closed frame to prevent the dust entering the factory. Usually the feeding particle needs to be less than 30mm, and the layer can be up to 7 maximum. Two motors drive the eccentric blocks which makes the linear vibrating screen vibrating,the smaller size material will go through the top layers to the lower layers during they move forward along the linear vibrating screen. In this way the materials is effectively separated.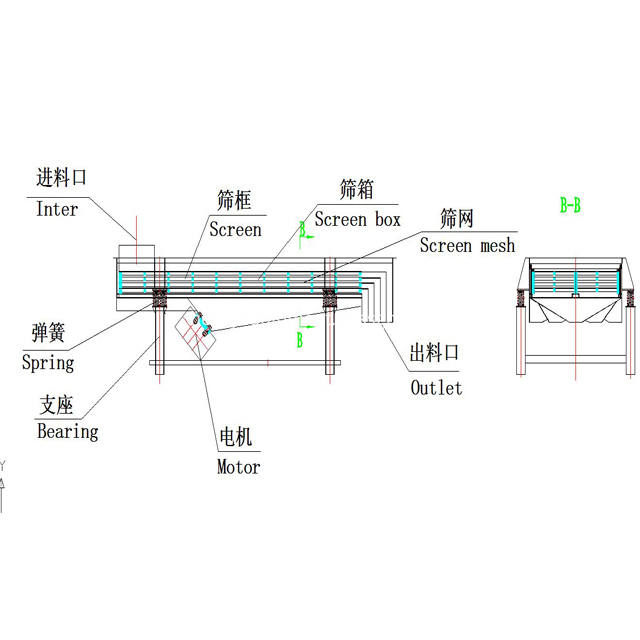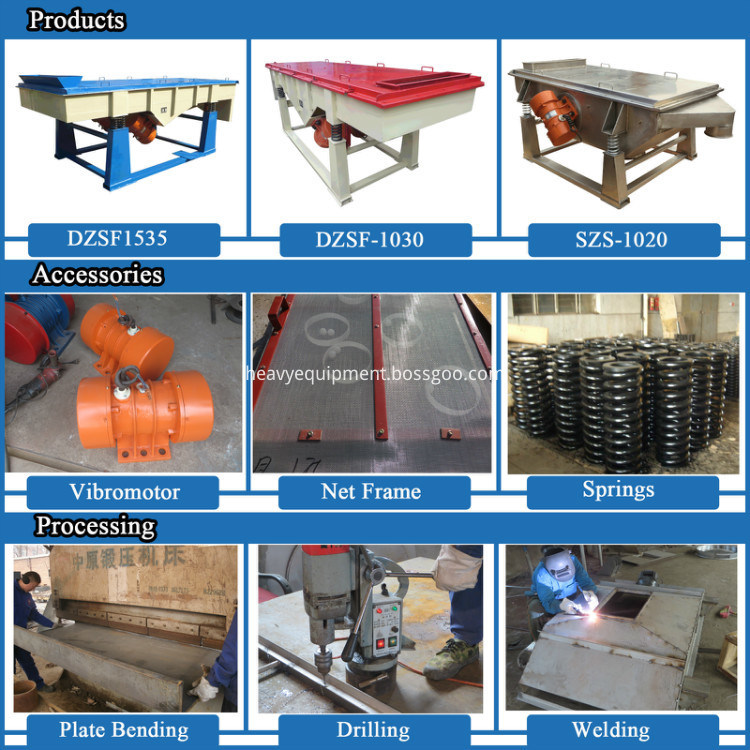 Application of Linear Vibrating Screen
1. Food industry
This linear vibrating screen can be used for handling starch powder, sugar powder, salt, rice flour, milk powder, soy bean milk, sauce, fruit juice, condiment, and so on.
2. Chemical industry
Our high efficiency screener is widely used for processing resin powder, paint, industrial chemicals, detergent powder, cosmetic, Chinese medicine powder.
3. Metallurgy industry
In metal processing industry, this linear vibrating screen can sift alluminium powder, lead powder, copper powder, alloy metal powder, electrode powder, manganese dioxide powder, electrolytic copper powder, abrasive powder, High temperature resistant material, kaolin, limestone, dolomite, alumina, calcium carbonate, quartz sand and so on.
4. Pollution abatement.
Our linear vibrating screen is also suitable for treating waste oil, sewage, accessory ingredient, activated carbon.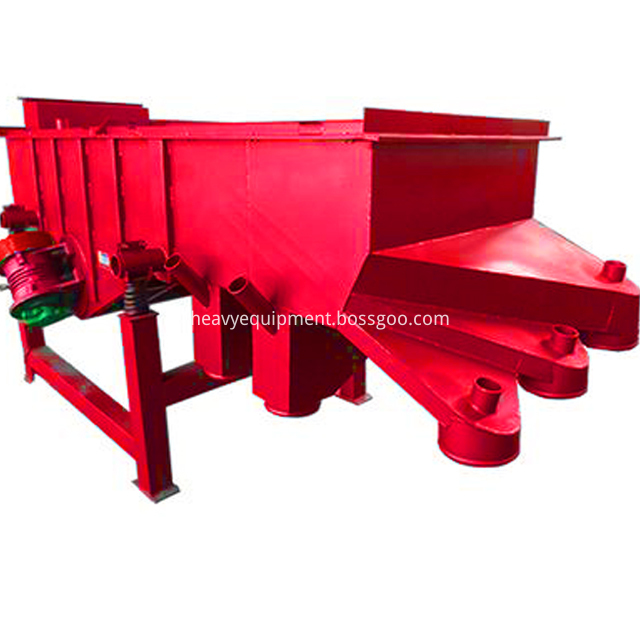 Technical Parameter of Linear Vibrating Screen
Model

area (mm)

Layer

Mesh size

(mm)

Capacity (t/h)

RPM

Double

amplitude (mm)

Power (kw)

Dimension(mm)

DZSF520

500×2000

1

2-200

0.05-5

960

6-7

2×0.4

2140×808×848

DZSF520-2

2

0.05-5

960

6-7

2×0.4

2199×808×878

DZSF520-3

3

0.03-5

960

4-6

2×0.4

2256×808×938

DZSF525

500×2500

1

0.06-8

960

5-7

2×0.4

2642×808×848

DZSF525-2

2

0.06-8

960

4-6

2×0.4

2699×808×878

DZSF525-3

3

0.06-8

960

6-8

2×0.75

2750×808×938

DZSF525-4

4

0.1-15

960

5-7

2×0.4

2813×808×1000

DZSF525-5

5

0.08-15

960

5-7

2×0.4

2883×808×1060

DZSF525-6

6

0.07-15

960

6-8

2×0.75

2953×808×1120

DZSF1020

1000×2000

1

0.12-20

960

6-8

2×0.75

2152×1320×900

DZSF1020-2

2

0.11-20

960

5-7

2×0.75

2219×1320×960

DZSF1020-3

3

2-200

0.10-2

960

5-7

2×0.75

2286×1320×1030

DZSF1020-4

4

0.07-15

960

4-8

2×0.75

2353×1320×1100

DZSF1020-5

5

0.07-15

960

4-8

2×1.5

2420×1320×1160

DZSF1020-6

6

0.07-15

960

4-8

2×1.5

2487×1320×1220

DZSF1025

1000×2500

1

0.1-15

960

5-7

2×0.4

2203×1320×900

DZSF1025-2

2

0.08-15

960

5-7

2×0.4

2269×1320×960

DZSF1025-3

3

0.07-15

960

6-8

2×0.75

2336×1320×1030

DZSF830
DZSF830-2
DZSF830-3

800×3000

1
2
3

0.1-20

960

6-8

2×0.75

3080×1098×1120

0.1-20

960

6-8

2×0.75

3140×1098×1180

0.1-20

960

6-8

2×1.5

3200×1098×1240

DZSF1030

1000×3000

1

0.1-20

960

6-8

2×0.75

3152×1340×1120

DZSF1030-2

2

0.1-20

960

6-8

2×1.5

3219×1340×1120

DZSF1030-3

3

0.1-20

960

6-8

2×1.5

3286×1340×1120

DZSF1224

1200×2400

1

0.1-23

960

6-8

2×0.75

2480×1520×1100

DZSF1224-2

2

0.1-23

960

6-8

2×0.75

2540×1520×1160

DZSF1224-3

3

0.1-23

960

6-8

2×1.5

2600×1520×1220