According to different materials, the rotary kiln can be divided cement rotary kiln, chemical rotary kiln, lime rotary kiln, metallurgy rotary kiln, refractory material rotary kiln, and so on, it`s used to process different materials at high temperature, usually the temperature ranges from 600-1450 Celsius degree, as the temperature is high, so it`s necessary to use refractory brick inside the kiln shell to protect the rotary drum shell, usually the refractory brick can resist up to 1700 Celsius degree. Which make it`s safe to protect the shell of the rotary kiln. And it`s usually installed with a slight inclination, in this way the materials will move from the high end to the lower end when the rotary kiln`s working. And after calcining process, it needs to use a cooling machine to reduce the temperature of the materials. There are mainly two types of cooling machine, one is cooed by air and the other is cooled by water outside the shell. Rotary kiln can also named as rotary calciner, sintering equipment,Rotary calcination kiln, and so on.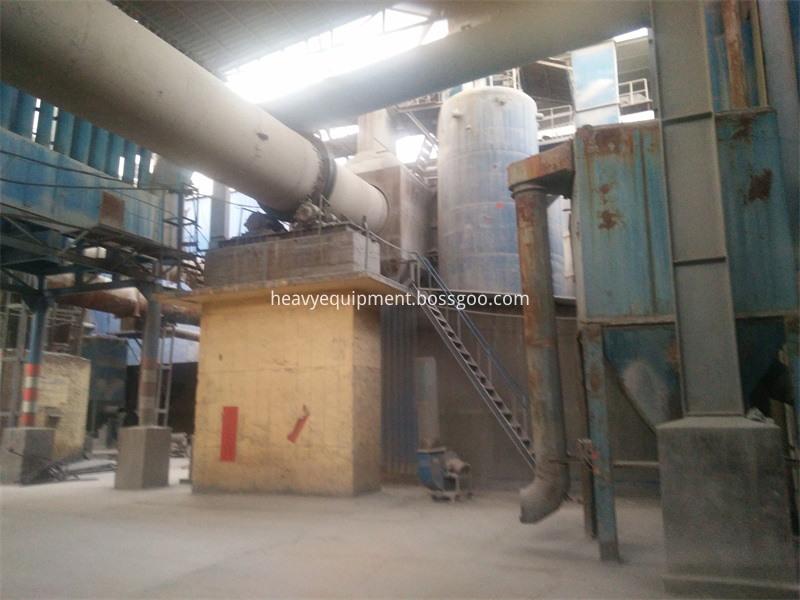 The cement rotary kiln is mainly used to sinter the cement clinker from the limestone and some other additives, in order to achieve higher efficiency, it usually needs to use a preheater which uses the waste gas to heat the raw materials from the preheater, after heat exchange the temperature of the raw materials can reach up to 900 Celsius degree, so the efficiency is much higher improved and on the other hand, it reduces the production cost and environment pollution.

Rotary kiln can also used in other field, such as it`s used to convert hematite into magnetite in iron ore beneficiation plant, raw pellet sintering in an oil proppant manufacturing plant and LECA manufacturing plant, the diameter of a rotary kiln is from 1200-6000mm, and the length can be up to 95m.

Characteristics of cement clinker rotary kiln:
1) The shell is made of the high quality kilned carbon steel and alloy steel, by the method of automatic welding;
2) The tyre and roller are made of ZG35CrMo steel and 42CrMo steel;
3) The sliding bearing is the non-scraping liner one with large clearance;
4) The driving device is equipped with the reducer with hard tooth surface and flexible diaphragm coupling, and driven by DC motor;
5) Hydraulic thrust roller is used;
6) Low-speed driving device is equipped.

Technical Parameter of cement clinker rotary kiln
Model

Basic Parameters

Main Motor

Thrust

Type

Support

Type

Weight

Remarks

Speed Rate

Inclination

Capacity

Power

m

r/min

%

T/d

kw

t

Φ3.2×50

0.674-3.37

3.5

1000

160

Hydraulic

Sliding

252.4

Φ3.5×52.5

0.6-3.6

3.5

1500

180

366.5

Φ4×56

0.3-3.5

3.5

2000

250

489

Φ4×60

0.396-3.96

3.5

2500

315

523

Φ4.3×64

0.4-3.96

3.5

3200

420

606.69

Excluding seals of kiln head and kiln rear

Φ4.8×72

0.39-3.69

3.5

5000

630

853.3

Excluding kiln head cover

Φ4.8×74

0.35-4

4

5000

630

864

Φ5.2×61

0.38-3.79

3.5

5500

800

859

Φ5×80

max 3.5

4

6000

800

Φ5.6×87

max 4.23

4

8000

800

1201

Cooperating with Burleigh Hughes

Φ6×90

max 3.5

4

10000

845×2

Φ6×95

max 5

4

10000

950×2

Cooperating with Smith