Magnetic Separator is a mineral separator that's mainly used for mineral contained iron content, according to its working condition, it can be divided into wet magnetic separator and dry magnetic separator, as it needs to add water for the wet magnetic separator while the dry type is no need.it is mainly used for iron ore such as magnetite ore, hematite ore, and some river sand, lake sand and some slags processing.
Classification of wet magnetic separator/ dry magnetic separator
Wet drum magnetic separator is suitable for strongly magnetic mineral. According to tank structure pattern can be divided into co-current, half-countercurrent, and countercurrent 3 kinds.

Co-current type magnetic separator ( CTS) characteristics advantages: have a large capacity, suitable for processing coarse granularity (0-6mm) strong magnetic materials selection and selection can also work more than one thread. Disadvantages: when Co-current magnetic separator is fed more capacity iron ore, magnetic mineral particles easily lost in the tailings, so to strengthen the operational management and control to be a low pulp level.

Countercurrent type magnetic separator (CTN) characteristics advantages: with a higher recovery rate, suitable for fine-grained (0-1.5mm) strong magnetic minerals roughing and scavenging operations. Disadvantages: to get lower concentrate grade. Because coarse-grained material easy to plug the sorting room, so countercurrent-type magnetic separator does not be suitable for dealing with coarse-grained materials.
Advantages of half-countercurrent type magnetic separator (CTB) characteristics: to get high-quality iron ore concentrate, and better recovery, it is suitable for processing 0.5-0mm of the mineral particles, so half-countercurrent magnetic separator is widely used in different kind of industry.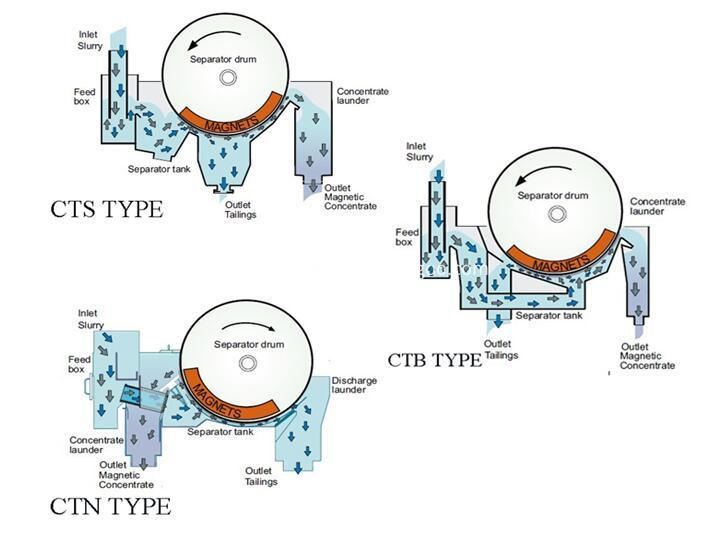 Component of Wet drum magnetic separator magnetic /dry magnetic separator
Wet Drum Separator Permanent magnetic system /dry magnetic separator, using high-quality ferrite and rare-earth magnet material to be composited, the average tube surface magnetic flux density of 100 ~ 600mT (1000Gauss-6000Gauss). Wet drum magnetic separator mainly made up of the permanent magnet cylinder, roller, magnetic system, tank, transmission parts 5 parts.

Working principle of wet magnetic separator /dry magnetic separator
When the ore pulp folw into the magnetic field, the strong magnetic minerals are adsorbed on the surface of the drum. The weak magnetic and non-magnetic minerals are cast off and discharged, while the strong magnetic minerals on the surface of the drum rotate with the drum and will be brought out of magnetic field to complete the sorting operation.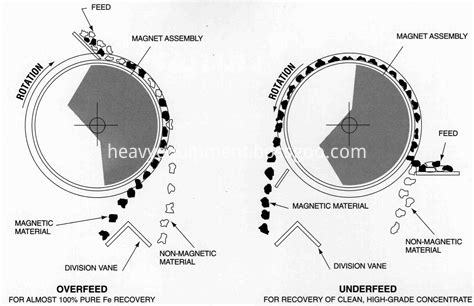 Technical Parameter of dry magnetic separator /wet magnetic separator
| | | | | | | |
| --- | --- | --- | --- | --- | --- | --- |
| Model | Shell diameter(mm) | Shell length(mm) | Shell rotation speed(r/min) | Feeding size(mm) | Processing capacity(t/h) | Power(kw) |
| CTB6012 | 600 | 1200 | ‹35 | 2-0 | 10-20 | 1.5 |
| CTB6018 | 600 | 1800 | ‹ 35 | 2-0 | 15-30 | 2.2 |
| CTB7518 | 750 | 1800 | ‹ 35 | 2-0 | 20-45 | 2.2 |
| CTB9018 | 900 | 1800 | ‹ 35 | 3-0 | 40-60 | 3 |
| CTB9021 | 900 | 2100 | ‹ 35 | 3-0 | 45-60 | 3 |
| CTB9024 | 900 | 2400 | ‹ 28 | 3-0 | 45-70 | 4 |
| CTB1018 | 1050 | 1800 | ‹ 20 | 3-0 | 50-75 | 5.5 |
| CTB1021 | 1050 | 2100 | ‹ 20 | 3-0 | 50-100 | 5.5 |
| CTB1024 | 1050 | 2400 | ‹ 20 | 3-0 | 60-120 | 5.5 |
| CTB1218 | 1200 | 1800 | ‹ 18 | 3-0 | 80-140 | 5.5 |
| CTB1224 | 1200 | 2400 | ‹ 18 | 3-0 | 85-180 | 7.5 |
| CTB1230 | 1200 | 3000 | ‹ 18 | 3-0 | 100-180 | 7.5 |
| CTB1530 | 1500 | 3000 | ‹ 14 | 3-0 | 170-280 | 11 |