Denver Flotation Cell, is also called flotation machine, flotation separator, is mainly used for the mineral processing plant, as it is a complex reactions, so always it needs a series of fltation machine for one specific ore, usually the quantity ranges from 16-24 cells for one ore, to make sure the ore is concentrated thoroughly. There are sevel different types of flotation machine, for example, XJK flotation cell, SF mechincal Agitator Flotation Cell, XCF flotation cell, XJB rod flotation cell, full cross-section microvesicle flotation cell, while the mechnical Denver Flotation Cell is commonly used.

Denver Flotation Cell, or Air Flotation Cell, is a mineral separator that mainly used for the flotation beneficiation plant, which can be used for various kinds of ores, such as for copper ore benefication plant, lead ore beneficiation plant, graphite ore beneficiation plant, cobalt ore beneficiation plant, nickel ore beneficiation plant, lithium ore beneficiation plant, gold ore beneficiation plant, and so on. the slurry is fed to the Denver Flotation Cell after mixing with some additives, and with the help of air, there will be a lot of bubbles, and the mineral will adhear to the bubbles, which will floate to the top of the slurry, then adjust the height of the flashboard, then the scraper on the Denver Flotation Cell will take out the useful minerals, and there are some amount which is not processed thoroughly will flow to the next tanks, until it's effectively separated, then it will becomes the tailings and are discharged from the bottom of the air flotation machine.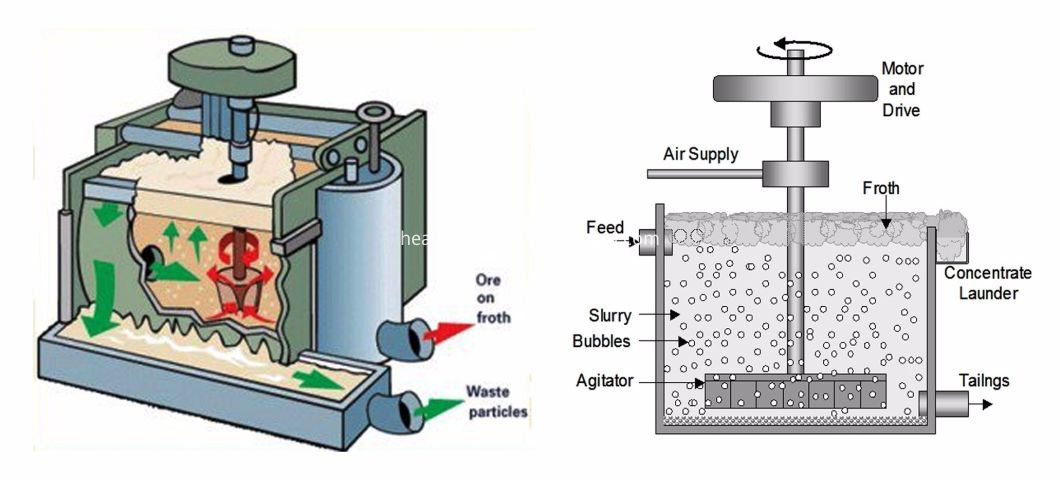 Working Principle of Denver Flotation Cell /Flotation Cell For Mining:
The motor drives belt pulleys to make the impeller moving by triangle belt. One is to mix the air and pulp sufficient, the other side is to agitate the pulp with chemical reagents as well as thinning the bubbles. The ore particles stick on the bubbles by the chemical reagents and float to the surface of the pulp and then become the forth and scraped by the scrapper.

Structure and Material of Denver Flotation Cell / Flotation Cell For Mining:
When the flotation machine is working, the inlet ore pipe feed the pulp to the center of the cover and then swi out the pulp by the revolving impeller of the centrifugal force. Meanwhile, there is a negative pressure zone in the space of the impeller and cover so air can be inhaled from the air inlet pipe automatically. The strong agitation of the impeller mixes the pulp and air sufficient and then be made to many small bubbles. The bubbles go up to the forth and be scrapped out to be forth product.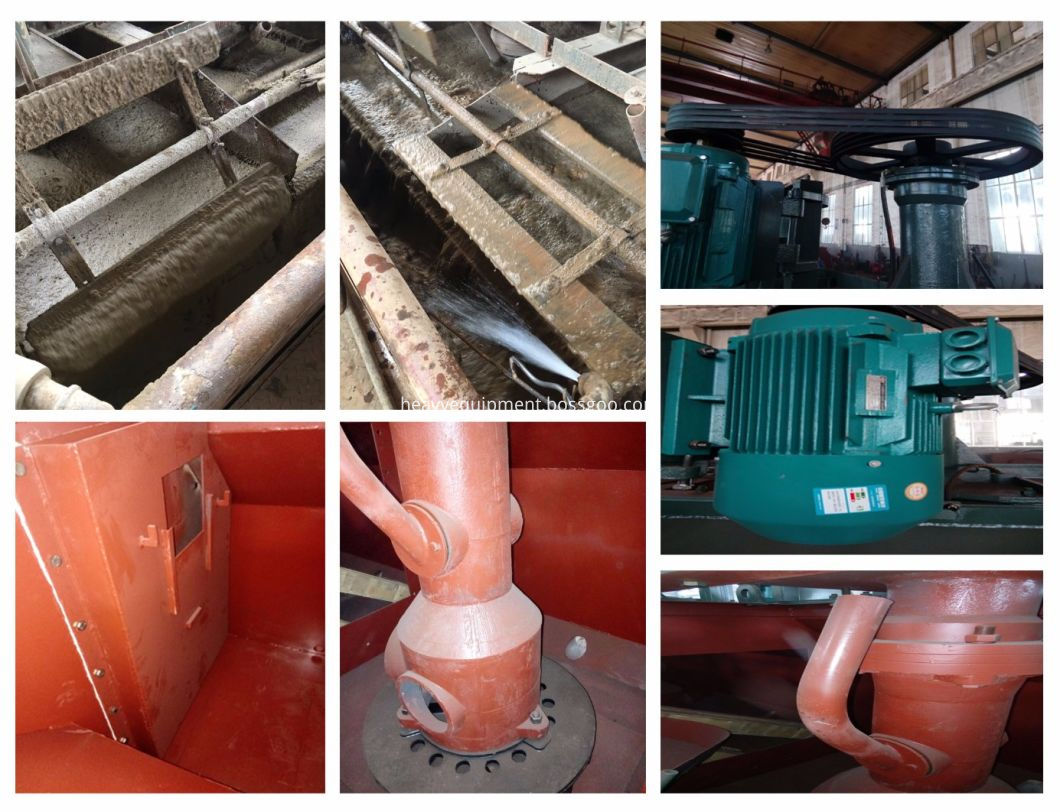 Application of Denver Flotation Cell /Flotation Cell For Mining:
It can be used for non ferrous metals like copper, lead, zinc, molybdenum and gold, black metals and non-metals for roughing and cleaning flotation.


Main Technical Parameters of Denver Flotation Cell /Flotation Cell For Mining

Model

Effective Volume




(m3)

Diameter of impeller




(mm)

Capacity




(m3/min)

Impeller rotation




(r/min)

Scrapper




Rotation




(r/min)

Impeller motor

Scrapper motor

Weight of each cell




(Kg)

Model

Power




(Kw)

Model

Power




(Kw)

XJK-0.13

0.13

200

0.05-0.16

600

17.5

Y90L-4

1.5

Y801-4

0.55

0.35

XJK-0.23

0.23

250

0.12-0.28

500

17.5

Y90L-4

1.5

Y801-4

0.55

0.41

XJK-0.35

0.35

300

0.15-0.5

470

17.5

Y100L1-4

2.2

Y801-4

0.55

0.45

XJK-0.62

0.62

350

0.3-0.9

400

16

Y100L2-4

3

Y90S-4

1.1

0.85

XJK-1.1

1.1

500

0.6-1.6

330

26

Y132M-6

5.5

Y90S-4

1.1

1.24

XJK-2.8

2.8

600

15-3.5

280

26

Y160L-6

11

Y90S-4

1.1

2.43