For Sand Making machine there are mainly two different types, one is impact hammer crusher and the other one is VSI Sand making machne, the working principles are a little different, the rotor of impact hammer crusher is horizontal, while the VSI sand making machine's vertical, when materials fed into the crushing chammer, the rotor will thrown the materials to the lining plates mounted on the crushing chamber, the advantages of this structure is that it reduce the consumption of the wear parts, as most of materials get crushed when they impacts on the materials, not on the lining plates. so the production cost will be lower than the hammer impact crusher, which crush the materils mainly by the hammer.

Vertical Shaft Impact Crusher, usually called as VSI for short, as it`s mainly used for sand making, so it`s also called as VSI Sand maker or VSI sand making machine, it crushes the material due to the impact force between the materials and impact plate. When material fed into the crusher, the rotor with high speed will throw the materials to the impact plate when the materials touches the rotor, the material will be crushed into smaller sizes due to the impact force, and there are some materials which are crushed with the impact force between the materials. Which can reduce the consumption of the wear parts.
VSI crusher can continuously work 720 hours without stopping, is currently the a popular stone crushing equipment in sand making industries. Below are some applications of the VSI Sand making machine.

1: Artificial sand making machine from granite, pebbles, limestone, andesite.

2: For aggregate crushing plant which usually follows a cone crusher, as the shape is not ideal after crushing with cone crusher. It needs to use a vsi crusher to reshape the aggregate.

3: To crush cement clinker or raw material crushing in the cement production plant or bauxite crushing in the oil proppant production plant.

4: The other applications in the chemical, mining, refractory, metallurgy, road-bridge industries and so on.

Technical parameters of VSI Sand Making machine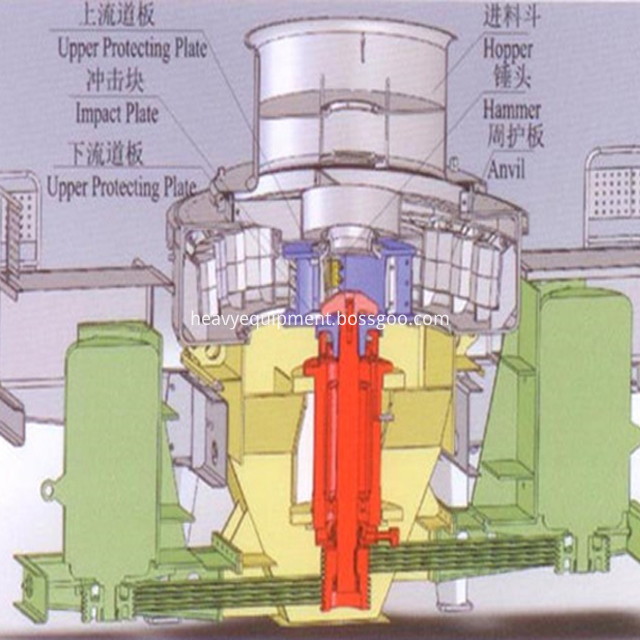 2. Performance and Features of VSI sand making machine
1). This sand maker widely replaces roller mill, ball mill in the world;
2). Unique structure, smooth operation;
3). Less consumption, high output, big crushing proportion;
4). Small size, easy operation, convenient installation and maintenance;
5). The sand maker has the function of shape making, the product is cubic, and the bulk density is big;
6). In the production process, the stone materials can form a surface guard to avoid abrasion of machine, so the sand maker is durable;
7). A few of easily damaged parts are made of hard and durable materials, small, light, and easy to be replaced

Technical Parameter of VSI Sand Making Machine
Model

VSI7611

VSI8518

VSI9526

VSI1140

Capacity(t/h)

Feed both at center
and at sides

120-180

200-260

300-380

450-520




Feed at center

60-90

100-130

150-190

225-260

Max feed size
(mm)

Sofe material

<35

<40

<45

<50




Hard material

<30

<35

<40

<45

Rotation speed
(r/min)

1700-1890

1520-1690

1360-1510

1180-1310

Power(KW)

110-150

180-220

264-320

400-440

Overall dimension
L*W*H (mm)

3700×2150×2100

4140×2280×2425

4560×2447×2778

5000×2700×3300

Weight(t)

7.8

10.3

16

25.6

Power supply

380V,50HZ

380V,50HZ

380V,50HZ

380V,50HZ

Vibrating sensor

detect range: 0.1-20mm/s continous and adjustable

Lubrication and
hydraulic station

Power(Kw)

2×0.31KW




Safety assuance.

Double